This is an unofficial WooCommerce plugin. It is not Endorsed by or associated with Automattic, Woothemes, Woocommerce.
Quotation plugin is an unnoficial plugin for Woocommerce
Woocommerce extension to enable and manage Customer Quote Requests (RFQ's) via Woocommerce frontend and backend.
This Request for a quote plugin contains a full quotation cycle. Ideal for stores providing custom services, or anything that would benefit from the customer being able to receive a custom quote. Customers click Add to quote button to add the products they are interested in to their quote basket and when ready click a Request for a quote button and their quote request is sent to you.
Enable Add to Quote buttons
Show or hide the 'Add to quote', 'Add to cart' and 'Price' per store, product categories (taxonomy/terms) and individual products.
Show or hide the visibility of the 'Add to quote', 'Add to cart' and 'Price' for everyone or only to registered customers that have been assigned a specific role
Show the 'Add to quote' button even if the produc is out of stock
Force show 'Add to quote' button for out-of-stock products
Enable the visibility of the 'Add to quote' button in Woocommerce catalog lists
Widget with dynamic refresh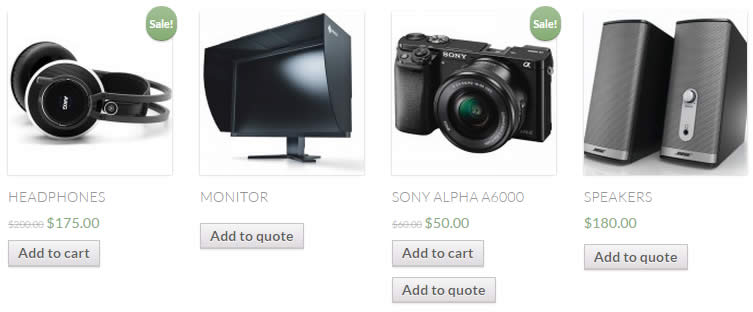 Flexible request for quote proccess
Custom redirect after submiting a quote request
Customer accepts or declines the proposal via email and my account links
Redirect customer to checkout, my account or custom url after accepting/declining a proposal
Show/hide pay link in email and my account pages for accepted proposals
Enable payments for out of stock products. Applicable for products that do not manage the stock and are out of stock. For all other cases, configure the 'backorders' option in the product inventory configuration.
Admin accepts proposals via WooCommerce backend, useful when customers accept proposals by telephone, email and other media
Automatic creation and submission of proposals
Nicely integrated with Woocommerce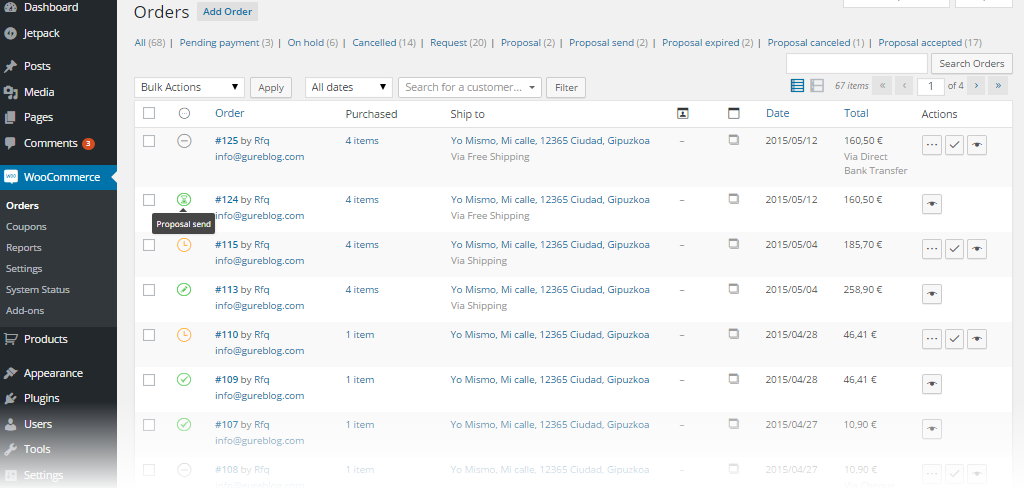 Customer relationship management
Send messages from Woocommerce backend
Customer messages from 'My Account' pages
Customer quote requests
Request for a quote via frontend.
Login / Register form
Request for a quote without creating an account
Add customer product notes
Add product add-ons using WooCommerce Product Add Ons or TM Extra Product Options plugins
Configurable Woocommerce form
Add extra fields using Contact Form 7 plugin
Enable Shipping request
Add general customer comments to the request
Enable Woocommerce terms and conditions
Auto-Generation of Quote PDF
Support for WooCommerce PDF Invoices & Packing Slips. Automatically generates a PDF for every quote you create. This PDF is then emailed to the customers. The customer also has the possibility to download the pdf >from my account pages.

Manage proposals via Woocommerce
Manage quote requests from your Woocommerce Orders page, exactly as if it were an order
Create quote requests and price proposals from Woocommerce backend
Send email to multiple administartors
Set reminders and expiry dates
Auto sending reminders and expiry emails
Add / Delete products
Enter shopowner comments per product
Custom price per product
Custom fees per proposal
Custom shipping prices per proposal
Woocommerce taxes calculation
Woocommerce total calculation
Attach files to the proposal
Enter shopowner comments per proposal
Public or private notes per proposal